With a background in design 🖥 and a genuine curiosity 👀
 to create ✨ new things – we're always up 🌈 for a creative challenge! From adding names 💬 and inside jokes, to designing new themes 🌴 and products, nothing is off the table. 🏓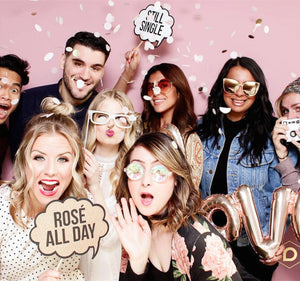 ✨

Custom order form

✨

Please fill out your information and details about your custom order below. We look forward 
to hearing from you and will reply within 1-2 business days. Thank you!
Frequently asked questions 💬
FAQ 💬
The short answer is yes. A lot more time goes into the creation of a custom order. The minimum creative fee for a custom order is $50. Depending on the level of difficulty, this may increase.

Once we have the final approved list of props it takes 1-2 weeks to design and make the props before shipping. You will get a confirmation email when the props have been shipped.

Yes you can! Once the list of props have been finalized and purchased, we can send a screenshot of the designs before we make them. Small tweaks can be made to the design but any large tweaks may affect the scope of the project.

Yes, we'd love to help you generate some ideas!

We can make 11.5 in x 11.5in props. Note, these would require larger sticks to support the prop.
"I was so lucky to have found Propmaster ✨ when 
I started 🌱my photobooth company two years ago!
The props are above 🌈️ and beyond anything else 
on the market 🦄 ."
💬

Skylor, Smirk Photobooth
"A true Prop Master Queen! 👑 Amber is definitely our secret weapon, as she is continuously raising the bar ✨ despite strenuous custom orders and very quick turn arounds."
💬

Deanna Lyndsey